Our Free Books Will Empower You
Get four must-read mesothelioma books with information on yours or your loved one's diagnosis, treatment, support, nutrition and more.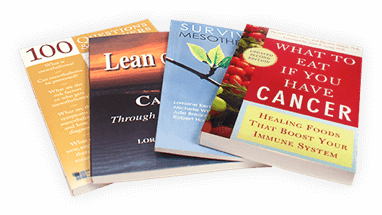 Where Should We Send Your Books?
Trusted, Informational and Personal Resources
Professional writers, who are regularly updated on the latest mesothelioma treatments, researched and compiled information for our educational guides, while caregivers and survivors share their own experiences to raise awareness of the disease and explain how you and your loved ones are not alone in this cancer journey.
100 Questions & Answers About Mesothelioma

Whether you're a newly diagnosed mesothelioma patient, a survivor or a friend, this book offers help. Lung disease expert Dr. Harvey Pass led a team of authors to write the book, which includes insider comments from the wife and caregiver of a mesothelioma patient. "100 Questions & Answers About Mesothelioma" gives you authoritative, practical answers to your questions about treatment options, post-treatment quality of life, sources of support, legal options and much more.

Lean on Me: Cancer Through A Carer's Eyes

Lorraine Kember shares her inspirational true story as the wife and caregiver of mesothelioma patient Brian Kember. If you are caring for a loved one with mesothelioma or cancer of any kind, this is a must-read book. "Lean on Me" uniquely combines the physical and emotional effects of caring for a loved one with cancer. It includes insight and discussion on pain control, symptom management and coping with grief as well as excerpts and poems from Lorraine's personal diary. These deeply moving pieces offer rare insight into anticipatory grief, which is the roller coaster of emotions we experience upon learning of a loved one's terminal disease.

Surviving Mesothelioma

Mesothelioma survivor Judy Glezinski chronicles her journey after receiving her diagnosis in 1990. "Surviving Mesothelioma" is her story of resilience and determination. It touches on important topics such as mesothelioma treatment options and support resources. Readers will find this book is more than a story of a mesothelioma survivor. It's also an important resource and source of inspiration for anyone affected by this rare cancer.

What to Eat if You Have Cancer

Cancer and cancer treatments take a toll on your body, but you can help make cancer treatment more effective and reduce the unpleasant side effects with good nutrition. "What to Eat if You Have Cancer" presents the best foods to fight cancer and suggests ways to keep your body strong — knowledge you need to take control of your health.