TTFields and Mesothelioma
Novocure's Tumor Treating Fields device, Optune Lua, is approved for first-line treatment of pleural mesothelioma. Doctors prescribe this portable, at-home treatment alongside chemotherapy for patients ineligible for surgery. TTFields is proven to improve survival with minimal side effects.
Last Updated:
May 24, 2021.
What Is Tumor Treating Fields?
Tumor Treating Fields is part of a multimodal therapy plan that doctors prescribe alongside chemotherapy for mesothelioma. Clinical studies are ongoing to determine the best combinations of TTFields with other treatments, including mesothelioma immunotherapy drugs.
In May 2019, the U.S. Food and Drug Administration approved TTFields to shrink and prevent new pleural mesothelioma tumors. At the time, TTFields became the first new FDA-approved mesothelioma cancer treatment in 15 years.
Novocure invented the Tumor Treating Fields technology that doctors have used since 2011 to treat an aggressive brain cancer variant known as glioblastoma. Previously known as the NovoTTF-100L System, the Tumor Treating Fields device is now known as Optune Lua.
Optune Lua is a first-line treatment option for malignant pleural mesothelioma patients. Eligible patients must have unresectable or metastatic disease, meaning they are not candidates for surgery.
Novocure has been developing and improving TTFields since 2000. In the STELLAR trial that led to FDA approval, malignant pleural mesothelioma patients had an overall survival of 18.2 months while on TTFields with chemotherapy. Patients on chemotherapy alone survived an average of 12.1 months.
How Does Tumor Treating Fields Work?
Optune Lua is a portable personal treatment device that delivers electromagnetic field therapy through adhesive patches patients wear on their skin. The insulated pads connect to a battery the size of a small backpack and provide alternating electric field therapy to the patient's tumor site.
The low-intensity, intermediate frequency electrical fields disrupt tumor cell division, slowing and preventing new tumor growth. In its current iteration, patients must also be on pemetrexed (Alimta) with platinum-based chemotherapy.
Patients wear the Tumor Treating Fields device for 18 to 20 hours per day while carrying the battery with them in a small bag. TTFields treatment is painless. Patients can remain relatively active and continue normal daily activities while on Optune Lua. The adhesive pads are replaceable whenever necessary.
Doctors prescribe chemotherapy every three weeks for six cycles while patients are on Optune Lua. Clinical trials have shown that the treatment combination can improve the survival rate of patients without increasing toxicity.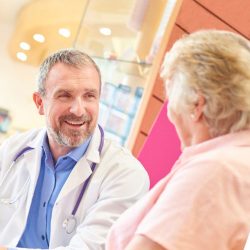 Get Help Finding a Doctor
Mesothelioma specialists play critical roles in improving prognosis
Benefits of TTFields Treatment
Novocure's Optune Lua offers several benefits over other treatments for mesothelioma, including:
Fewer and milder side effects than most drug-based treatments
Portable and near-constant treatment while remaining active
Personalized therapy that pinpoints treatment at the tumor site
Results from the STELLAR clinical trial with NovoTTF-100L TTFields were significant:
Patients on NovoTTF-100L with chemotherapy lived an average of six months longer than those on chemotherapy alone.
Mesothelioma cancer patients with the epithelial cell type had a median overall survival of 21.2 months.
Of the 80 patients in the trial, 62% of those on NovoTTF-100L plus chemotherapy were still alive at one year.
The Tumor Treating Fields therapy disease control rate was 97% effective at shrinking existing tumors and preventing new growth.
Eligibility
Patients interested in Tumor Treating Fields should discuss the therapy with their mesothelioma specialist. Even if patients are eligible, more appropriate options may be available.
Optune Lua TTFields currently has FDA approval for patients who meet all the following indications:
Malignant pleural mesothelioma
Unresectable, locally advanced or metastatic disease
Eligible for first-line treatment
Prescribed alongside pemetrexed and platinum-based chemotherapy
Patients with an implanted electronic medical device may not be eligible for Optune Lua. The treatment could disrupt some pacemakers or defibrillators, but further testing is underway to determine safety with electronic medical devices.
Treatment Centers Offering Optune Lua TTFields
As of February 2020, more than 75 cancer centers nationwide were certified to prescribe Optune Lua to malignant pleural mesothelioma patients. More cancer centers are also seeking certification and approval to offer the treatment.
Notable mesothelioma cancer centers offering Optune Lua include:
Brigham and Women's Hospital
Cleveland Clinic
Loyola University Medical Center
Miami Cancer Institute
Moffitt Cancer Center
Ochsner Medical Center
Sylvester Comprehensive Cancer Center
University of California Los Angeles (UCLA) Medical Center
University of Kansas Cancer Center
Side Effects
While on TTFields with chemotherapy, the most common side effects include:
Device skin reaction (under adhesive pads)
Itchiness
Constipation
Nausea
Fatigue
Cough.
Chest pain
Anemia (low red blood cells)
Other potential adverse effects are rare but may include:
Allergic reaction to device components
Electrode overheating causing pain or skin burn
Infection at the electrode site
Skin breakdown or ulcers
Most patients on Optune Lua only experience mild symptoms, and the treatment does not increase the toxicity of chemotherapy.
Patients interested in Optune Lua as part of a multimodal treatment plan should discuss the treatment with their mesothelioma doctor. A specialist can help you review the potential side effects, risks and benefits of Tumor Treating Fields.