Mesothelioma Statistics & Facts
Around 2,000 Americans are diagnosed with pleural mesothelioma each year. Statistics show the cancer is primarily caused by occupational asbestos exposure, and its 5-year survival rates are poor.
Last Updated:
November 30, 2021.
Mesothelioma Facts
Many years of scientific research have proven asbestos exposure is the primary cause of mesothelioma.
In 1935, a pathologist in London was the first to suggest a connection between asbestos exposure and pleural mesothelioma.
Research has since shown that 2 to 18% of workers heavily exposed to asbestos end up developing pleural mesothelioma.
In 2003, the FDA approved a combination of two chemotherapy drugs as the first official treatment for mesothelioma.
Today, the cancer is primarily treated with chemotherapy, surgery and radiation therapy. Clinical trials are testing new treatment options such as immunotherapy with increasing success.
Who Is at Risk?
People who regularly worked with asbestos products for months or years have the highest risk of developing mesothelioma.
Industries That Exposed Workers to Asbestos
Auto manufacturing
Chemical refining
Construction
Firefighting
Insulation work
Manufacturing
Mining
Paper milling
Power generation
Railroad work
Shipbuilding
Steel milling
Mesothelioma Incidence Statistics
Between 2,000 and 3,000 cases of mesothelioma are diagnosed each year in the U.S.
Pleural mesothelioma, which affects the lining of the lungs, makes up more than 75% of these cases.
In 2015, a Surveillance, Epidemiology, and End Results study evaluated more than 14,000 cases of pleural mesothelioma diagnosed between 1973 and 2009.
Key findings included:
Approximately 78% of cases were diagnosed in men and 22% in women.
About 59% of patients were diagnosed with the most advanced stage of cancer.
Roughly 77% of patients were diagnosed too late to qualify for surgery.
What Is the Latency Period?
Asbestos exposure causes mesothelioma. The latency period is the time it takes for inhaled asbestos fibers to cause the damage that leads to mesothelioma. The decades-long latency period of pleural mesothelioma is the reason most patients are diagnosed after the age of 65.
The latency period for pleural mesothelioma is slightly longer on average compared to peritoneal mesothelioma, the second most common type of this cancer.
The average latency for all mesothelioma cases is 20 to 50 years.
The latency period associated with pleural mesothelioma is approximately 30 to 60 years.
The latency period is closer to 20 to 40 years for peritoneal mesothelioma.
Mesothelioma Symptoms and Treatment
The most common pleural mesothelioma symptoms include:
Difficulty breathing
Chest-wall pain
Fatigue
Fever
Night sweats
Weight loss
Symptoms of mesothelioma typically do not develop until the cancer has reached an advanced stage. Difficulty breathing and chest-wall pain are the two most common initial symptoms. At least one of these symptoms occurs in 60% to 90% of pleural mesothelioma patients.
The only FDA-approved treatment for pleural mesothelioma is the chemotherapy combination of cisplatin and Alimta (pemetrexed).
More than 80% of mesothelioma patients receive chemotherapy, and on average they live about three times longer than patients who do not receive chemotherapy.
About 15% to 20% of pleural mesothelioma patients qualify for major surgery to remove tumors.
Experimental treatments such as immunotherapy and gene therapy are available through clinical trials.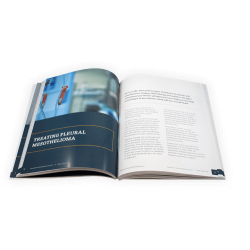 Free Mesothelioma Informational Packet
Critical Mesothelioma Information for Patients & Families
What Factors Affect Prognosis?
Several factors play a role in how long people live with mesothelioma:
Cancer Stage: Small, localized tumors are easier to treat.
Overall Health: Patients in strong health usually have more treatment options.
Sex: Women typically live longer than men.
Age: Younger people tend to live longer with pleural mesothelioma.
Cancer Cell Type: Epithelial tumors are associated with longer survival.
Mesothelioma tumors are composed of cells that fall into different categories:
Pleural Mesothelioma Survival Statistics
Researchers usually calculate survival rates in terms of the stage of mesothelioma at diagnosis.
A 2016 study published in the Journal of Thoracic Oncology reported the median number of months patients live after diagnosis. The "median" means half of patients in the study lived more than this number, and half of patients lived less.
| Stage | Median Survival Time |
| --- | --- |
| Stage 1 | 22.2 months |
| Stage 2 | 20 months |
| Stage 3 | 17.9 months |
| Stage 4 | 14.9 months |
The American Cancer Society reports 5-year relative survival rates. These numbers show how likely it is someone will live 5 years after a pleural mesothelioma diagnosis compared to someone without the cancer. They define the stage by describing how far the cancer has spread.
| Stage | 5-Year Relative Survival Rate |
| --- | --- |
| Localized | 18% |
| Regional | 11% |
| Distant | 7% |
Mesothelioma Death Rates
In 2017, the Centers for Disease Control and Prevention compared U.S. mesothelioma death rates from 1999 to 2015. In the context of other causes of death, the mesothelioma death rate fell 21.7% over this time period. But the annual number of mesothelioma deaths actually increased by 100.
2,479 — American mesothelioma deaths in 1999
2,579 — American mesothelioma deaths in 2015
45,221 — Total number of U.S. mesothelioma deaths between 1999 and 2015
More than one-third of the deaths were among people aged 75-84, and males made up almost 80% of them. According to the data, former insulators who worked with asbestos products are 26 times more likely to die of mesothelioma than the general population.
Pleural mesothelioma is the most common type of mesothelioma. Of the deaths reported, only 16% specified a type of mesothelioma other than pleural mesothelioma.
Mesothelioma Costs and Compensation
The cost of treating pleural mesothelioma is similar to the cost of lung cancer treatment. 
Chemotherapy: A 2013 cost-effectiveness study of Alimta plus cisplatin reported an average total cost of $40,102 for first-line chemotherapy treatment.
Surgery: Pleural mesothelioma surgery is comparable to lung cancer surgery, which can cost around $40,000 or more.
Radiation Therapy: The median cost of a session of radiation is $9,000, according to a 2015 study of radiation therapy for cancer patients with Medicare.
Costs vary based on the patient's treatment plan, insurance coverage and what doctors they choose. Health insurance usually covers most of the costs of cancer treatment, but patients still face major bills to pay out of pocket.
According to a 2017 American Cancer Society report, U.S. patients can expect to spend around $5,000 to $10,000 per year for advanced lung cancer treatment, including the cost of insurance premiums.
One of the main financial resources for pleural mesothelioma patients is legal compensation. This is because most cases of the cancer were ultimately caused by companies who produced or used asbestos products and failed to warn workers about the dangers involved.
Because there is no centralized asbestos compensation system in the U.S., qualified mesothelioma lawyers work to secure compensation for American families affected by asbestos-related cancer.
A 2016 Mealey's Litigation Report listed the average mesothelioma lawsuit compensation amounts:
Out-of-Court Settlement: $1 million
Jury Verdict Award: $2.4 million
More Mesothelioma Resources
For more evidence-based information about pleural mesothelioma, see these resources: