Challenges of Being a Mesothelioma Caregiver
Caring for a loved one with mesothelioma presents unique challenges. Mesothelioma caregiver struggles are common, but you can learn ways to overcome these challenges with the right strategies and support.
Last Updated:
May 14, 2021.
Signs You May Be Struggling with Caregiving
If you're a mesothelioma caregiver and you're feeling overwhelmed, exhausted or emotionally and mentally stressed, these are signs you may be feeling caregiver burnout. This is common among mesothelioma caregivers because of the amount of care that's required in supporting someone with terminal cancer.
Many mesothelioma caregivers are women who are caring for their husband or father with mesothelioma. If your husband has mesothelioma, you may suddenly find yourself in new roles that you don't yet know how to navigate.
Try to be patient with yourself. It is common for caregivers to focus so intently on their loved one that they forget to take care of themselves. This can lead to burnout and deterioration of their own health. If you don't feel well it will be harder for you to care for your loved one. Making your health and wellness a priority will help you cope and enable you to offer the best care you can.
Common Caregiver Challenges & Solutions
Challenge: Your health is declining because you are so focused on your loved one's health.

Solution: Rework your caregiving plan to make more time for your own health. Reach out to secondary caregivers, family, friends and neighbors and ask if they can contribute in some way. Make an appointment with your primary care physician for a health and wellness assessment and create a plan with your doctor to take better care of your health.

Challenge: Your loved one is refusing care.

Solution: Try to introduce changes slowly and allow your loved one as much independence as possible. If they seem frustrated or are resisting care, take a break and determine how much time and space is needed before you offer assistance again. Reach out to a medical professional, trusted friends or a spiritual counselor for guidance.

Challenge: You have overwhelming feelings of anger or resentment.

Solution: The first thing to know is that these feelings are normal and common for caregivers. Be gentle with yourself and allow yourself regular breaks from caregiving. Talking with friends, a social worker or counselor may help you find better ways to cope.

Challenge: Conflicts are arising between primary and secondary caregivers or among family members.

Solution: It is common for disagreements to arise about how to properly care for a loved one with mesothelioma. Encourage open, honest and respectful communication to work toward solutions that make everyone comfortable. Patience is important in working through these kinds of conflicts. Hiring a care manager or social worker to help resolve certain disputes may help everyone involved reach a fair resolution.
Caregiver Burnout
It is common for mesothelioma caregivers to experience burnout, which feels like mental, emotional and physical exhaustion. There are ways to prevent and manage mesothelioma caregiver burnout, including creating a care plan, relying on secondary caregivers more often and reaching out for support.
Extended long-term stress leads to burnout, and it can easily develop if primary caregivers resist help or don't give themselves enough breaks or support.
Addressing caregiver burnout starts with identifying sources of stress. Consider the ways caregiving is taking a toll on you and create a plan to help yourself recover. Consider scheduling an appointment with your primary care physician and a social worker to assess your options.
This kind of burnout will last until you get the help you need and sufficient rest to recover. If you are feeling burnout, don't ignore it and simply hope that it will get better. Create a plan to get the support and rest you need to keep caring for your loved one.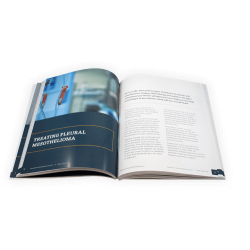 Free Mesothelioma Informational Packet
Critical Mesothelioma Information for Patients & Families
Long-Distance Caregiving
Long-distance caregivers live an hour or more from their loved one with mesothelioma. Providing care from a distance presents unique challenges, but getting organized can help.
How to Get Organized
Medical Considerations: You may want to set up a durable power of attorney for health care, which will give you access to medical records without your loved one having to sign medical release forms each time.
Financial Considerations: Similarly, establishing a durable power of attorney for financial affairs will grant you access to your loved one's financial information. This step is important for caregivers who will need to help their loved one get their financial affairs in order.
Legal Considerations: If the time comes to get your loved one's legal affairs in order, having both a durable power of attorney for health care and financial affairs will be helpful. Set time aside to gather important documents such as a birth certificate, Social Security card, driver's license, passport, disability records and insurance records.
Home Care Services
Living more than an hour from your loved one with mesothelioma makes caring for them yourself extremely difficult. Hiring home care services such as lawn maintenance, house cleaning services, a grocery delivery service and a home health aide can help.
Emergency Planning
Another way a long-distance caregiver may help is by creating an emergency plan and distributing it to primary and secondary caregivers. This gets everyone on the same page with the best contact information needed to respond to health emergencies.
Virtual Opportunities
Long-distance mesothelioma caregivers may use caregiving apps to coordinate caregiving duties and virtual video conferencing to provide companionship.
Examples of caregiving apps include Lotsa Helping Hands, CaringBridge and Caring Village. Options for virtual connection include apps such as FaceTime, Zoom and Google Hangouts.
Financial Stress
The cost of mesothelioma cancer treatment and health care places financial strain on many families. Many mesothelioma caregivers are women who have depended upon the financial support of their husband, and they may become concerned about how to support themselves or manage their finances.
Resources, tips and financial aid are available to help families enduring financial stress.
Financial Planning Tips
Decide how your family will make financial decisions and designate someone to facilitate the process.
Consider hiring a financial advisor or estate lawyer to make a financial plan, prepare important documents and help with big decisions.
Work with health care providers and health insurance providers to negotiate the best price for treatments and care.
Research options for financial aid and assistance such as treatment grants, travel grants, mesothelioma lawsuits and asbestos trust funds.
Tips to Cope with Financial Strain
If you hire a financial professional, ask them for guidance on how to balance your budget and ways you can save money by reducing expenses.
Speak with a social worker to learn about ways to save on medical costs and how to negotiate with health insurance providers.
Learn all you can about the unique forms of financial assistance available to people with mesothelioma, including financial aid from nonprofits and mesothelioma compensation accessible through legal options.
The cost of mesothelioma treatment is often high, even for people who have good health insurance. Cancer treatment is expensive and health insurance may not cover all the costs, and copays for certain medications can run high. It is important to understand what your health insurance plan covers and to stay on top of medical bills. You may be able to negotiate better pricing if you run into insurance coverage issues.
Resources for Managing Financial Stress
Grants: Research medical and travel grants online and ask an oncology social worker about local and national programs.
Family and Medical Leave Act: This act created a federal program that allows caregivers to take time off from work to care for a loved one while maintaining health insurance and securing their job for a period of time. Talk to the human resources department at your company to learn more.
Trust Funds: People with mesothelioma have special access to asbestos trust funds because the cancer is caused by exposure to asbestos. A mesothelioma lawyer is most qualified to guide you through the trust fund claim process.
VA Claims: Veterans with mesothelioma qualify for disability compensation and other forms of VA assistance, including health care.
Resources for Handling Stress
Support Groups: Caregiver support groups are one of the best resources for support, stress relief and valuable information. It may be challenging to find an in-person mesothelioma caregiver support group in your area, but they are available online.
Respite Care: Respite care provides a break to primary caregivers, whether in the privacy of their own home or at a respite care center. It is relatively common for insurance plans, state agencies and VA benefits to help cover the cost of respite care.
Counseling: Mental health counseling is available through social workers, mental health therapists and hospice counselors. In addition to serving as a safe space for you to release stress, counseling also empowers caregivers with coping strategies. They can also help you navigate difficult decisions and family challenges.
Exercise:Regular exercise helps the mind and body process stress better. Carving out time to walk, bike or do strength training on a weekly basis will help you feel better and allow you some time to care for your health as well.