Mesothelioma Caregiver Duties & Responsibilities
Mesothelioma caregiver duties and responsibilities range from medical care to meal planning to maintaining house chores and assisting with grooming and hygiene.
Last Updated:
May 14, 2021.
What Are the Duties and Responsibilities of a Caregiver?
Mesothelioma caregivers take on a multitude of roles and responsibilities when their loved one isn't feeling well.
Common Caregiver Duties
Medical and health care
Nutrition and meal planning
Personal care
Companionship
Financial matters
Your role as a caregiver may start off with a few tasks that are manageable, but it is critical to prevent caregiver burnout by making a long-term plan.
It is important to prepare for all the duties entailed in caregiving for your loved one with mesothelioma. Trying to do it all yourself or attempting to figure it out as it comes may overwhelm you and result in undue stress.
Reach out to secondary caregivers, family members, friends and neighbors to see if they can help. Consult your loved one's oncology team and primary care physician to come up with a care plan that will meet the patient's needs and help them through cancer treatment and recovery.
You may also consider speaking with a professional, such as a nurse or home health aide, to get a complete care assessment. This will help you develop a care plan that is tailored to what a person with mesothelioma requires. Preparing will reduce stress and help you provide the best care to your loved one.
Medical and Health Care
One of the most important priorities in mesothelioma caregiving is managing medical and health care. You can expect to manage doctor appointments, medication, side effects and to monitor your loved one's health.
Medication Management
Mesothelioma patients are prescribed different types of medication to manage pain and side effects of certain treatments. Figuring out the right time and order in which to deliver medication can feel like a huge undertaking, but you don't have to do it alone.
Reach out to a medical professional and ask for guidance. You might be able to find this kind of help from the patient's oncology team, primary care physician or hospice nurse.
As a caregiver, you can expect to help with the following aspects of medication management:
Picking up medication and keeping track of refills
Creating a medication schedule and administering it on time
Learning what side effects to look out for and drug interactions to avoid
Asking how your loved one feels to help monitor their response to medication
Managing Side Effects
Managing side effects from treatment involves monitoring how your loved one feels and checking in with them to ensure they aren't hiding a new side effect. It is common for people with serious health conditions to fear speaking up about the pain they feel or a new issue that has developed.
Working with a palliative care specialist is one of the best ways to help manage side effects. These doctors are skilled at controlling pain and managing side effects from cancer treatment.
Monitoring Health
The duties involved in monitoring your loved one's health range from basic tasks, such as checking blood pressure, to paying close attention to their behavior, energy levels, signs of discomfort and overall mood.
Tracking changes in health, pain and side effects provides important information you can share with the oncology team and primary care physician. Identifying new degrees of pain or developing side effects and seeking treatment for them early can help prevent them from progressing.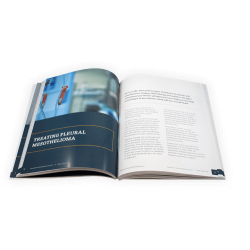 Free Mesothelioma Informational Packet
Critical Mesothelioma Information for Patients & Families
Nutrition and Meal Planning
Caregivers often spend a good amount of time ensuring their loved one eats well and receives the nourishment they need to stay strong throughout cancer treatment and recovery. While everyone's dietary preferences vary, people with mesothelioma should pay attention to their diet because it can help or hurt how they respond to treatments such as chemotherapy.
Meal Planning
Some caregivers may find that planning and preparing meals is time-consuming and takes thoughtful consideration. The cancer center where your loved one is receiving treatment may have a dietician on staff to help families understand how to meet the nutritional needs of those with mesothelioma.
One option to save time with meal planning is to arrange for a grocery delivery service or meal delivery plan. Similarly, relying on secondary caregivers to help run errands, such as grocery shopping or meal preparation, may help you handle this aspect of caregiving.
Nutrition During and After Treatment
Dietary needs may change as your loved one goes through different treatments and recovery.
For example, some patients may need to adjust their diet if certain treatments or medications cause nausea, constipation or other gastrointestinal concerns. Patients on certain chemotherapy drugs may be at risk of developing mouth sores, and a liquid diet can help under those circumstances.
It's important to keep the oncology team updated on how your loved one feels and responds to treatment. The oncology team and an oncology nutritionist can provide guidance tailored to your loved one's specific needs.
Personal Care
Caregivers can offer a lot of assistance with personal care while their loved one battles mesothelioma, ranging from providing companionship and transportation for medical care to housekeeping and grooming.
Bathing and Grooming
Mesothelioma caregivers may need to help their loved one maintain good personal hygiene should they become weak from cancer treatment or cancer progression. This is among the most emotionally challenging aspects of caregiving. Reaching out to a hospice nurse to help you learn how to provide this kind of care and speaking with a counselor or social worker can help you cope with the emotional toll it may take on you.
Housekeeping and Laundry
Keeping up with house chores is enough work when you're splitting it between two people, and it can feel overwhelming to do it all on your own if your loved one isn't well enough to contribute.
Outsourcing help with this aspect of caregiving is important if you're feeling burned out. Consider asking a family member, friend or neighbor to help with yard work and house chores, or look into hiring a lawn service or professional cleaning service.
Transportation
Driving your loved one to doctor visits and treatment appointments provides a sense of stability and comfort around events that may make them anxious or scared. Consider ways to make the trips more enjoyable with music or podcasts you both enjoy.
Companionship
Providing companionship and emotional support to your loved one strengthens their mind and spirit while they undergo mesothelioma treatment. The value of this aspect of caregiving cannot be understated.
Remember to support yourself as a caregiver with emotional assistance as well. This might include calling a friend when you feel overwhelmed or making time to meet with an oncology social worker or mental health therapist. Scheduling time to connect with your friends or family might serve as a good source of support for yourself so you can best take care of your loved one.
Legal and Financial Issues
Managing financial matters and handling legal issues are something mesothelioma caregivers should prepare for. Working with professionals such as an accountant, estate lawyer and mesothelioma lawyer will help your family navigate these matters with confidence.
Insurance and Financial Assistance
Managing health insurance coverage and other types of insurance may involve coordinating with health care providers and insurance providers, which can typically be done over the phone.
Learning about financial assistance options unique to mesothelioma patients may help them pay for medical costs not covered by health insurance. For example, medical grants, transportation grants, programs such as Social Security Disability and mesothelioma trust funds are all potential sources of financial aid.
Medical Power of Attorney
Setting up a medical power of attorney, also known as a durable power of attorney for health care, soon after your loved one is diagnosed will help you prepare for unexpected medical events.
You can also designate a durable power of attorney for financial affairs to ensure your loved one's will is executed as they wish.
Family and Medical Leave Act
A federal program known as the Family and Medical Leave Act may come in handy for caregivers who need to take time off from their jobs to care for their loved one. It requires your employer to maintain your health insurance coverage and ensure your position will be secure for a certain period of time.
Reach out to your human resources department to learn more about how the Family and Medical Leave Act may benefit your family if you need time off from work to care for your loved one.