David Sugarbaker, M.D.
Pioneer of Mesothelioma Treatment
Dr. David Sugarbaker was a pioneer in the treatment of malignant pleural mesothelioma. He died Aug. 29, 2018. He was 65.
About Dr. David Sugarbaker
Dr. David Sugarbaker leaves behind a legacy of treatment breakthroughs and clinical research excellence, propelling the field to where it is today. Sugarbaker trained and mentored countless mesothelioma doctors across the nation who continue to change patients' lives for the better and push forward to find a cure for this rare cancer.
When officials at the Baylor College of Medicine in Houston decided to add the high-profile Lung Institute with a specialty center aimed at malignant pleural mesothelioma, picking a director was pretty easy.
Sugarbaker was a natural first choice.
Sugarbaker had carved his reputation as America's foremost authority on mesothelioma cancer through 25 years of groundbreaking work at Brigham and Women's Hospital.
He already was directing the most well-known mesothelioma specialty center in America, but in 2014 he welcomed the opportunity to create a bigger and even better cancer center in Texas.
"The goal now is to take everything we've done with mesothelioma and apply it on a larger scale," Sugarbaker said. "What we are building in Texas, there will be nothing else like it in the world."
Respected by His Patients
Sugarbaker was a brilliant surgeon and astute administrator. Some of his patients from Boston traveled to Texas to stay under his care — a testament to their loyalty — but that's nothing new for him. He attracted pleural mesothelioma patients from across the country for many years.
He earned the respect of patients and peers as a surgical innovator. He helped develop and refine the extrapleural pneumonectomy (EPP), an aggressive surgery that removes the entire lung, select lymph nodes, parts of the diaphragm and the lining around the heart and lungs.
He has moved the medical community closer to a cure for this rare, aggressive cancer, lowering the EPP operative mortality rate and extending the lives of hundreds of patients.
Sugarbaker played a major role in developing today's popular multimodal treatment approach that includes a combination of surgery, chemotherapy and radiation, often called trimodal therapy.
"He still is the gold standard when it comes to mesothelioma care," said thoracic surgeon Dr. Abraham Lebenthal, who trained under Sugarbaker and still works at Brigham and Women's and the Boston VA. "He is Dr. Mesothelioma."
In Boston, Sugarbaker helped develop the International Mesothelioma Program (IMP), the largest of its kind, attracting clinicians and researchers from around the world.
Sugarbaker's work at the International Mesothelioma Program revolutionized the treatment of pleural mesothelioma. In 1992, the Annals of Thoracic Surgery published research led by Sugarbaker on the difficulties of performing an EPP and how the IMP has overcome the difficulties with their operative techniques.
By 1996, Sugarbaker was publishing results from a trimodal therapy study where 74 percent of patients with the epithelial cell type and no lymph node metastasis were living two years after diagnosis and 39 percent were alive at five years.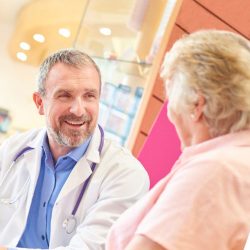 Get Help Finding a Doctor
Mesothelioma specialists play critical roles in improving prognosis
Trimodal Treatment Approach
Sugarbaker was first and foremost a surgeon. He conducted surgeries on pleural mesothelioma patients while his colleagues conducted the complementary therapies of chemotherapy and radiation therapy. Because aggressive surgeries for pleural mesothelioma are only appropriate for early stage cases, Sugarbaker primarily worked with patients who were diagnosed before the cancer reached stage 4.
Combining chemotherapy and radiation therapy with surgery improves survival for most people with pleural mesothelioma. Surgery typically comes first, followed by chemotherapy at least a month later. Radiation therapy often begins three to four weeks after the second round of chemotherapy.
But the order in which therapies are given may vary depending upon the patient. For example, if a patient's cancer has spread too far to perform an EPP, chemotherapy may be tried first to shrink tumors enough to do the surgery.
Sugarbaker was most known for his skill in conducting an EPP surgery, but he occasionally used other surgeries to treat pleural mesothelioma. In some patients who were elderly or not in good enough health to handle an EPP, Sugarbaker performed a pleurectomy and decortication (P/D), which involves removal of the lung lining and cancerous parts of the lung, but keeps the lung intact. A P/D has less risk of complication and a shorter recovery time, but the chance of local cancer recurrence is higher than with EPP.
In addition to using traditional systemic chemotherapy, Sugarbaker sometimes used intrapleural chemotherapy, which applies heated chemotherapy directly into the pleural lung lining during surgery. This localized approach to chemotherapy allows the drug to penetrate tumors at their origin, but the drug cannot reach cancer cells that have spread beyond the lung lining. Sugarbaker found that higher doses of cisplatin used for intrapleural chemotherapy resulted in longer survival for patients who underwent P/D.
External beam radiation therapy was the type of radiation historically used on pleural mesothelioma patients under Sugarbaker's care. It is typically administered after chemotherapy begins to shrink remaining tumors. Incisions made during surgery are often irradiated as well to prevent cancer from spreading to surgery wounds.
His Work at the Lung Institute
The Lung Institute at Baylor provides diagnostic and treatment services for most disorders of the lungs. It also treats disease of the esophagus, chest wall and mediastinum. It includes specialists from medical oncology, surgery, radiation oncology, pulmonary medicine and radiology.
Sugarbaker was directing the clinical and research programs at the Lung Institute before his death. Part of his vision was a comprehensive program that crosses departments and disciplines.
"Part of what attracted me to Baylor was the opportunity to build something that never has been done before," he said. "I see a large role for clinical and translational research, with an eye on getting new treatments to patients as soon as possible. The program will also have a strong surgical presence."
The surgical program of the Lung Institute is at Baylor St. Luke's Medical Center. Sugarbaker also served as chief of general thoracic surgery at Baylor. Among his clinical interests were video-assisted thoracic surgery, minimally invasive surgery, lung volume reduction surgery and general thoracic surgery.
Sugarbaker attended Cornell University Medical School. He did his residency in surgery at Brigham and Women's Hospital, Peter Bent Brigham Hospital and Hospital for Sick Children, University of Toronto. He received cardiothoracic training at Toronto General Hospital. He returned to Brigham to start his career and stayed for another 25 years.